(June 13, 2016) Another sign that the Conservancy's mitigation land is maturing biologically into a diverse and productive habitat. Just look at these photos. Yes, I know.  Not everyone likes snakes. And these are not Giant garter snakes.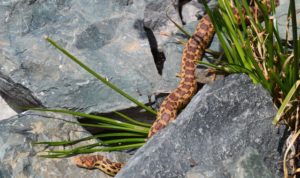 But when you see a variety of species of snakes in abundance on the preserves, you know there is prey there. This strongly suggests we've got a nicely diversifying popular of prey and predator on the preserves.
Like these two subjects, most of what we're seeing appear to be healthy and vibrant. This is very gratifying.